When I talk to pro players, we often discuss finding the slot, both stylistically and sonically. It's better to find a sound that makes you comfortable and able to play with your bandmates while taking up only the bandwidth allotted to the guitar's part of the puzzle. If a guitar's sound is big enough to stand on its own, there won't be much room for the song. That's why it's important to have an instrument that responds to my musicality as opposed to simply nailing a tone even if it sounds a little thin or weak on its own. It's the sum of the parts that counts, which is hard to remember when picking out a guitar - The Signal Chain In Your Mind, Jol Dantzig, Premier Guitar, January 2011 issue
I don't understand why some people will only accept a guitar if it has an instantly recognizable guitar sound. Finding ways to use the same guitar people have been using for 50 years to make sounds that no one has heard before is truly what gets me off.- Jeff Beck
Among God's creatures two, the dog and the guitar, have taken all the sizes and all the shapes, in order not be separated from the man. - Andres Segovia
Those quotes from a famous guitar builder and two very different guitarists define the purpose of TuneYourSound.com.
Most of the guitarists see more in the guitar than just a piece of wood with some metal parts. The guitar is an extension of the guitarist's personality, which allows to express the creativity which is burning inside. This can take different tones and shapes depending on the mood, time in life,..
So the guitarist is in a constant search for the ultimate guitar sound of the moment fitting his musicality.
Who are we ?
We are guitar players and collectors at TuneYourSound.com. Collectively we have personally owned and played over 1800 guitars. And we have seen guitar players play-from Jimi using his teeth to Jimmy using his bow.
And now, we want to tell you what we have learned over the years and under the stages.
First: There should be two primary guitars in your life. The one you start with (by choice or coincidence) and the one you finish with (once you find it, you'll know it and keep it). But of course, humans are acquisitive by nature, so we are prone to own more than we need-but a guitar player must have what he really needs.
Two: Sometimes it's better for a guitar to be heard than seen and other times it's better for a guitar to be seen than heard. So, play it both ways. Buy a guitar that does both.
Three: Avoid the hype. Especially now with the Internet overloading us with data. Buy a guitar that you trust from someone you trust.
Four: Make it personal. Establish a relationship with your seller. That way you will never be disappointed-nor abandoned. After all, it is still about money-your money. And you deserve to get more than you give.
Our mission
To assist any amateur or professional musician to find an instrument that responds to his/her musicality is the aim of TuneYourSound.com. We help get the musician inside the music helping match the player's personal style with the instrument that will make the result: MUSIC.
With a large collection of vintage and artist owned guitars as well as master luthiers build guitars and amps, we can give the guitarist the possibility to find his Sound. Is it to find the right sound for your recording project or acquire a vintage guitar or a guitar made for you based on your specifications, TuneYourSound.com can create the environment to do so. Direct contacts with the instrument builders can be arranged to get the specifications detailed out.
The People behind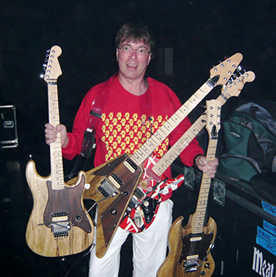 Luc Henzig (luc@tuneyoursound.com)
Luc is taking care of the TYS collection. It is his passion for the guitar which gave birth to the TYS collection, which has in the meantime an international recognition. Exhibitions in world renowned museums and publications in specialised magazines give only a partial view of the wealth of instruments in this distinctive collection.

Luc takes also care of the sales of new instruments TYS offers for sale.

For all questions, you may contact luc@tuneyoursound.com.

As we are a big family, it is clear that we have intensive contacts with our builders. You have a direct question to them; we make the necessary to get them answered. You want to pay them a visit in their work shops; we arrange them.
Where to find us?
TuneYourSound.com has different locations for demonstrations of our material in Luxembourg and France.

Demonstrations of new instruments and visits of the TYS collection in Luxembourg will be done only on appointment basis to give the necessary time to get things right. TuneYourSound.com is investing in personalised customer relationships.

A shop open to the public during working hours is located in France:
Boutique 5150, 4, rue Abel Gance,Thionville France.
Go to the Shop Boutique Page >

If needed we transfer the instruments between shops to make them available for demonstrations.

Please contact us under: info@tuneyoursound.com. We will answer your queries in French, German and English within 24 hours.