Terry McInturff has started his work on the first Spitfire guitars to be build. 
The wood has been sorted and has been given the final curing process.

Look at the beautiful East Indian Rosewood for the necks!


Here is the stack of Swamp Ash that was selected for the group of eight TYS Spitfire guitars. This stack represents what was really of high instrument grade...only 1/3 of the latest shipment "made the grade" for a TCM guitar:
It is of extreme importance that all of the woods used on a TCM guitar...every piece...be of the correct moisture content. This, of course, is only one of a number of specifications that the raw materials must meet. Using wood of the correctly LOW moisture content assures that there will be no surprises "down the road". Correctly seasoned tone wood is as stable as the species will permit, and will resonate properly.
This shot shows the moisture meter testing a TYS Spitfire body; note that the "6" LED is glowing; this means that the moisture content is 6% or lower. 8% is the absolute "wettest" allowable rating: 
Here is TYS 004, ready to have the mortise, pickup routs, etc generated. Terry uses a very good pin-router for this operation; properly performed, the individual operations will yield a result that is within .005" (five thousandths of an inch) of the "ideal" the original blueprint specifications. As Terry says: "It (the pin-router)  is very accurate and repeatable, although it must be admitted that a day spent pin-routing assures a sound night's sleep! ":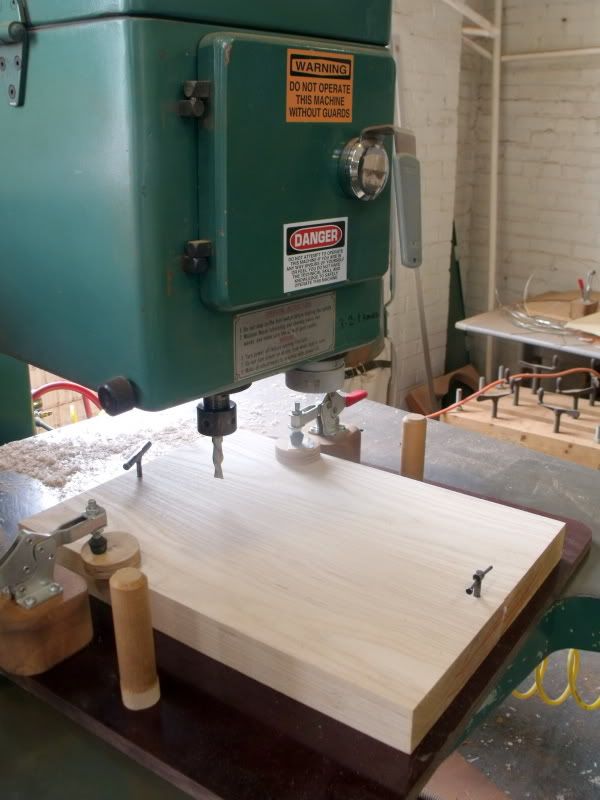 At TYS we are all very excited that work has started on this unique guitar line and as you can see from the process involved this is a work of high craftsmanship. Terry makes all the efforts necessary to handcraft a superb instrument for expressing yourself as a guitar player.
More news will be posted in the coming weeks to share with you the passionate work of Terry McInturff.